Please Note that we do require 24 hours notice for cancellation of lessons. Students are still responsible for payment of missed lessons if proper notice is not given.

Schedule a lesson today through our online calendar:

Book an Appointment
Appointments can be booked up to 2 weeks out and 24 hours prior. Please allow 24 hours notice for cancellations. Clients will be required to pay for lessons canceled within 24 hours prior to scheduling a new lesson. Please talk with an instructor prior to adding into an existing group or adding a group consisting of more than two people.
Whether your goal is horse showing or being able to control a horse out on the trails, we can help you reach it. Lessons at Zephyr's Way Stable are either taught privately or in groups of two to four. This allows for more individual attention, and for a better learning experience than the large group lessons. A signed liability release is required.
Cait Ashton
Owner
Caitlin grew up riding in the Richmond area, and was very active in 4H. She began her education at Virginia Intermont College studying Equine Management and Business. She finished with a BS in Animal Science at Virginia Tech in 2009. She received her instructor's certification in 2008 from ARIA, specializing in Hunter/Jumper and Stable Management. She enjoys teaching her students how to become successful with their horses, and rehabs and retrains rescue horses in her spare time.

Sam Womack
Instructor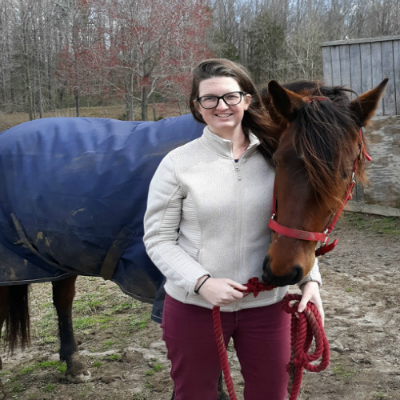 Sam Womack has owned and ridden horses since childhood. She currently works with a private school program, where she teaches their equestrian classes. Sam specializes in teaching children who are just starting their riding adventures. She is great with beginner children who may be nervous or have anxiety.
2021 Pricing Information


One Hour Private: $55
Group Lesson (Two-Five People): $40 per person
Lesson Package (Ten Private Lessons): $500
Lesson Package (Ten Group Lessons): $360
Horse Camp: $400
Local Horse Show $140
Half Lease: $275 per month
Full Lease: $600 per month


Pricing Information, Flyers, and Forms can be mailed upon request.






2021 Summer Camp Information is Here!
Please check out our Facebook page or email for flyers and registration forms.

Our camps are Monday through Friday and are held from 9:00-5:00. Please email or message for more information! Camp Flyers and Registration Forms are listed below. There is a half day option for beginners as well. 2021 Summer Camp Information is listed below.

Please email or message the barn for camp availability.